Michelman's Molly Hladik to Present at Labelexpo Europe's Flexible Packaging Master Class
CINCINNATI, OH (August 16, 2023) –Molly Hladik, Ph.D., Global R&D Manager at Michelman, will lead a class on inks, coatings, curing, and laminating as an instructor at Labelexpo Europe's Flexible Packaging Masterclass. The class is scheduled for September 12 at 12:15 PM and will include considerations on inks and downstream performance, such as food contact, migration, and process conditions. Molly will also touch on the use of coatings as we move toward a more circular economy.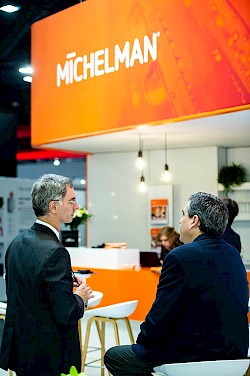 With a Ph.D. in Chemistry and extensive industry experience, Molly develops innovative primers for improved ink adhesion. Currently overseeing the development of water-based primers that enable HP Indigo ElectroInks to adhere to a wide range of substrates, Molly plays a crucial role in advancing digital printing capabilities.
Michelman will exhibit in stand 5D20, and will showcase its in-line and off-line primers, overprint varnishes, and strengtheners explicitly formulated for use in HP Indigo Digital Presses to produce a variety of labels, commercial printing, and flexible packaging applications. Michelman's solutions are water-based and enhance the sustainability of printed materials by allowing printing on a wide variety of substrates, including those created from recycled or renewably-sourced materials. This versatility helps press owners minimize substrate waste, expand into new markets, and ultimately grow their businesses.
Michelman will also feature its barrier and functional coatings for flexible packaging systems. These coatings help customers develop sustainable packaging that provides enhanced oxygen, moisture, and grease resistant barrier solutions on paper- and film-based substrates.