Michelman to Focus on Lightweighting at Future of Composites in Transportation Symposium and Exhibition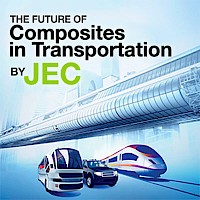 CINCINNATI, OH (June 21, 2018) – Exhibiting at The Future of Composites in Transportation Symposium and Exhibition being held by the JEC Group, Michelman will introduce visitors to its portfolio of fiber sizing solutions that help the transportation industry exploit the benefits of composites: design freedom, consolidation of parts and integration of functionality while meeting its light-weighting initiatives. The event is taking place June 27-28, 2018 in Chicago, IL.
Michelman fiber sizings are available for a variety of application types, and can dramatically improve fiber-polymer interface adhesion. This helps the automotive tier/producer community to produce composites with greater resistance to moisture, ethylene glycol, and high temperatures found in transportation applications. This allows the replacement of heavier alternatives with lightweight composite components.
Featured products will include select Hydrosize® Link grades, a family of polyurethane dispersions developed as a fiber sizing specifically for under-the-hood applications. According to Dr. Rick Michelman, Executive Vice President, Chief Growth & Technology Officer at Michelman, "Hydrosize Link U470 and U480 fiber sizings are testaments to Michelman's intense focus on polyurethane synthesis and controlled manufacturing. These products solve critical problems and challenges encountered by fiber and composite manufacturers. While fiber sizings account for as little as 0.2-0.3% of a finished composite part, they have an incredible impact on performance."
Hydrosize Link U470 and U480 fiber sizing products are designed to react with polyamide resin matrices. These high-performance sizing solutions are added during the fiber manufacturing process and are activated during compounding to increase the interfacial adhesion between the fiber and polymer matrix.
Michelman will also highlight its portfolio of Hydrosize grades for use with recycled carbon fibers. These include Hydrosize U2-04, Hydrosize HP3-02, Hydrosize PA845H and Hydrosize HP-1632. These formulations are compatible with a variety of thermosets, as well as with most common thermoplastic resins such as PA, PP, PC, and high temperature thermoplastics such as PPS and PEEK.
Michelman offers a diverse selection of sizing solutions that are optimized for a broad range of thermoplastic and thermoset resins, including high temperature matrices. The company's fiber sizing can be applied during the manufacturing process of chopped or continuous strand fiberglass, carbon fiber, natural fibers and fillers, or post-applied when making non-wovens and composite pre-pregs.
Michelman is a gold sponsor at the event, and will exhibit in Booth #117.
Michelman is a global developer and manufacturer of environmentally friendly advanced materials for industry, offering solutions for the coatings, printing & packaging and industrial manufacturing markets. The company's surface additives and polymeric binders are used by leading manufacturers around the world to enhance performance attributes and add value in applications including wood and floor care products, metal and industrial coatings, paints, varnishes, inks, fibers and composites. Michelman is also well-known as an innovator in the development of barrier and functional coatings, as well as digital printing press primers that are used in the production of consumer and industrial packaging and paper products, labels, and commercially printed materials. Michelman serves its customers with production facilities in North America, Europe and Asia, product development and technical service centers in several major global markets, and a worldwide team of highly trained business development personnel.