Michelman Earns 2023 EcoVadis Gold Sustainability Rating and Ranks In Top 96th Percentile
CINCINNATI, OH (March 28, EcoVadis 2023) – Michelman is proud to announce that it has earned an EcoVadis Gold Rating for sustainability. Michelman ranks in the top 96th percentile of 100,000+ companies that have been evaluated across more than 200 industries and 175 countries.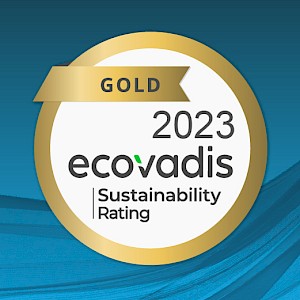 EcoVadis was founded in 2007 and has, according to its website, grown to become "the world's largest and most trusted provider of business sustainability ratings." The EcoVadis sustainability assessment is an evaluation of how well a company has integrated the principles of sustainability and corporate social responsibility (CSR) across four main themes: environment, labor and human rights, ethics, and sustainable procurement.
"Since our inception in 1949, Michelman innovations have been rooted in the development of water-based solutions and environmentally conscious technologies. Earning the prestigious EvoVadis Gold Rating is a testament to our core values and our associates' dedication to helping customers achieve their own sustainability initiatives," said Chuck Hardy, Michelman's Director, Global Sustainability and R&D Systems. "As part of the evaluation process, EcoVadis goes well beyond just environmental responsibility. For example, they grade applicants on EH&S procedures that protect a company's associates. They also evaluate HR and procurement systems that ensure both the applicant and its partners are paying fair wages. The process is a complete and thorough analysis of social responsibility, and we're proud to have ranked so highly."
"This achievement exemplifies our focus on Innovating a Sustainable Future," added Dr. Rick Michelman, Michelman's President and CEO. "We are committed to contributing to the sustainability of our planet. Toward that goal, we continually monitor and improve the footprint of our facilities via water, energy, and waste management and by innovating and introducing planet-positive solutions to the marketplace. With our recent hiring of Dr. Portia Yarborough as Chief Science and Sustainability Officer (CSSO), we will strive to achieve new heights along our sustainability journey while working together with our customers and value chain partners."
Learn more about Michelman's corporate-wide sustainability initiatives by visiting our Sustainability landing page.