Innovation Research Interchange's (IRI's) Podcast Highlights Michelman's Sustainability Initiatives
Rick Michelman recently discussed Sustainability with Lee Green, Innovation Research Interchange's (IRI's) Assistant Vice President, Strategic Communities, as part of IRI's Sustainable Innovation podcast series.
Discussion highlights included the following: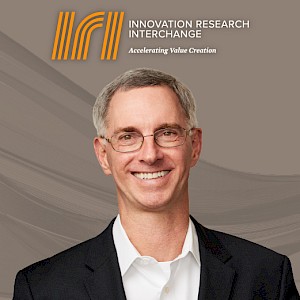 Defining a Corporate Sustainability Focus Aligns an Organization to Support Sustainability Throughout the Product Lifecycle – from Ideation through Commercialization
Michelman's stated purpose is Innovating a Sustainable Future. We strive to make sure that our associates know this and our customers know this. Aligning around sustainability allows the organization to focus on developing solutions that enable light weighting cars and planes, improving barrier properties and end-of-life use for flexible food packaging, extending the life of household items, like wooden decks, and enabling enhanced digital printing outcomes.
Our sustainability focus empowers us to break through preconceived notions to make radical changes within the industries we serve. As we develop paradigm-changing technologies, we think beyond the chemistries being developed in our lab—we also consider the entirety of the supply chain—from the raw materials used in our formulations through the end uses in our customers' final products. We are actively expanding our collaborations with other companies that share our sustainability focus.
Corporate Sustainability Initiatives Can Evolve, Intentionally, Over Time
At a high-level, we are pursuing two concurrent tracks to drive sustainability throughout our organization and our industry.
We actively develop work processes to create a planet-positive footprint. Whether minimizing energy consumption during manufacturing processes, reducing generation of solid waste, implementing automation to improve efficiencies, or investing in wastewater treatment plants, we seek to strategically minimize consumption of energy and raw materials.
Our product development efforts focus not only on eliminating Substances of Concern (SoCs) and Volatile Organic Compounds (VOCs), but we also consider the end uses of our products including how our chemistries enable our customers to achieve their own sustainability goals. By doubling down on our industry focus, hand-in-hand with the needs of our customers, we help drive sustainable innovation both throughout our product line and in the industries we serve. Ultimately, we are focused on developing planet-positive products and solutions.
Regular Measurement of Progress Drives Sustainability Results
We understand the power of setting quantifiable goals for our sustainability initiatives and then assessing our progress toward achieving those goals.
At Michelman, we focus on the triple bottom line of People, Planet, and Profit. Other companies may engage in similar initiatives under the banner of Environmental, Social, and Governance (ESG).
In terms of measurement, there is progress that we can gauge through quantitative assessment and there is progress that is made by our enabling chemistries that is a bit harder to quantify. For the products that we manufacture, it is a straightforward calculation to report on the amounts of SoCs eliminated, reductions in energy consumption, and diminished use of water during our production process. It becomes a tad more tricky determining our environmental impact for those applications where we enable sustainable solutions—but where our contribution to the final product is a relatively low percentage of the total materials used in the complete product.
We recognize there is a need, or an inherent challenge, in calculating our contribution to sustainability in those instances mentioned above where our coatings are a relatively low percentage of the total materials used in the complete structure. Disposable food packaging provides an example of this challenge. Michelman manufacturers coatings that can be applied as a thin film on a piece of paper. This coated paper may be used as part of a food-service container for a take-out tray at a restaurant. Using this coated paper might enable the take-out tray to be recycled. In this example, the paper coating may be a relatively small part of the takeout container. But because the coating displaces the plastic lining that was used in earlier generations of the food-service container, the environmental benefit is multiplicative. It is challenging, in this instance, to precisely calculate our contribution to sustainability. We may know how many pounds or kilograms we sell of a product, but it is somewhat more challenging to translate that knowledge into a precise, quantifiable metric.
Third-Party Validation Helps Industries Align Around Sustainability Goals and Metrics
We have found that third-party validation by industry groups like Ecovadis and Biodegradable Products Institute (BPI) help the industry converge on a common set of standards, measurements, and vocabulary to frame and assess sustainability initiatives.
Regulatory Changes Impact Sustainability Initiatives
As a global manufacturer of sustainable solutions, we need to manage our development and production resources to ensure that our products are compliant to sustainability regulations within each country where our products are sold. Whether meeting regulatory requirements for Plastic Waste Management (PWM) in India, for Single Use Plastics Directive (SUPD) in the EU, or helping to lightweight automobiles to support meeting emissions requirements in the United States, we are continually faced with an evolving set of regulatory mandates.
We maintain close relationships with our customers and listen carefully to their needs. We consider the regulatory parameters in our customers' countries of origin as well as the regulations in the countries that our customers conduct business. We empower our team members to not only anticipate and plan for upcoming regulatory changes but also to keep our own organization perpetually agile so that we can quickly pivot to meet evolving requirements.
Learn more about Michelman's sustainability focus by visiting our sustainability page at: https://www.michelman.com/sustainability/